Turtles
Turtles - set of three small adorable  little critters.  
Set of Three   $4.00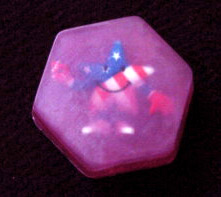 Star Spangled Smiley- Fun Red, White & Blue Smiley toy for kids to have fun playing with. You choose the scent. 4 oz

$2.75 eah
Baby Bottle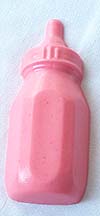 Baby Bottle - Fun and adorable Baby Bottle, great gift for new mom and baby or as shower favors. You choose color and scent.  Pink, Blue or White colors available
$4.00 Each
Baby Rattles: Makes great Shower Favors for the Happy Mom to be. Comes in Powder Blue, Pale Yellow and Light Pink and wonderful baby powder scent.

3 for $2.00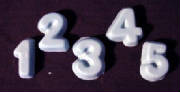 Alphabet and Numbers - All 26 letters of the alphabet and numbers 0-9 . Each letter or number will last a bath or 2. Make learning fun in the tub.

$10.00 per set
Cartoon Character Assortment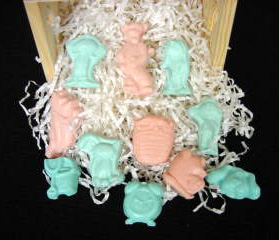 KIds will love bath time when they can paly with their favorite cartoon character. Available sets: Builder Bob, Winnie Pooh, Blues Clue, Harry Potter, and Scooby Doo. You pick 3 colors and a scent(s). Comes packed in appropriate size box.

$5.99 set


Hamburger Soap Set
Hamburger Soap Set : Enjoy a burger with all the fix-ins. Lettuce and tomato are scented like lettuce and tomato. ( total 6.oz all together) $6.00



Lips

Sealed with a kiss - small kissable lips. 
You choose color and scent.  
$3.00 each
Baby Bunny

Sweet Baby Bunny - with easter just around the corner this would be a nice addition to any basket. You Choose color and scent.  
$4.00 each
Bath Jelly Jars
Bath Jelly Jars - These are great fun and can be use to paint bath tub , walls, other kids and themselves. One thing though this soap smells so good the kids may want o eat it BUT Please do not let them do that. This soap should last through many bath times. Comes in Strawberry, Peach and Banana. Each jelly jar hold approx. 6 oz of fun bath jelly soap. More flavor choices will be added.

1 - 6.oz Jar - $5.99 ea.
3 - 6oz. ea. jars - $15.99
Krazy Country Katz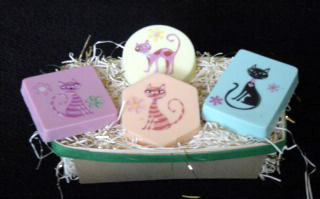 Krazy Country Katz - What can we say about these, everyone here just loved these. Makes a great gift for any kiddo who is a cat lover. We chose scents that match the soap color: peach/ tangerine, pink/strawberry, blue/blueberry and yellow/lemon. You may of course pick what ever scents you like. 2-3 oz each

Basket set - 12.00

Individual soaps - 3.50 each
My Pet Fish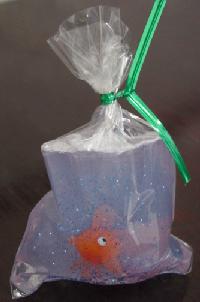 My Pet Fish - cool toy goldfish toy(1) embedded in clear glycerine soap in a bag, looks just like the real thing. You pick scent. (6 oz.ea) (fish toy will vary from picture due to availablity).

$4.99 bag ( CURRENTLY OUT OF STOCK) THEY'LL BE BACK THOUGH!
Frog pond

Frog Pond - neat little frog floating in the soap, once soap is gone kids can keep the frog cause he squirts water from a tiny hole in his mouth.
4-5 oz.

$3.99 ea.