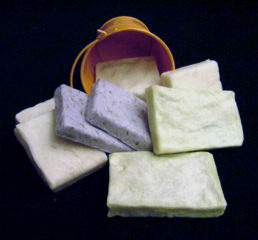 ***All soaps are always available unscented and/or uncolored if you chooose.***
REAL OLD FASHIONED HAND MADE SOAP: If you have never tried real handmade soap, you and your skin are in for an exciting experience.

Our handcrafted soaps are made one batch at a time. Our soaps are made with an awesome blend of oils and butters. The luxurious, creamy bars are fragranced with pure essential oils or fragrance oils. Some of our wonderful soaps even have herbs and/or grains added for natural exfoliation. Our handmade soaps are air-dried for at least three weeks which assists in the making of a rich, gentle lasting bar of soap. Our handmade soaps retain all their natural glycerin that is created in the soap-making process and is proven to be very beneficial to our skin. All of our soaps have great lather, long lasting fragrance, rinse off clean and are extremely moisturizing. No two bars ever look exactly alike.

You may choose: Cherry-Almond, Crazy Kiwi, Double Mint, Lavender, Mambo,Oatmeal Milk & Honey, Patchouli Strawberry, Plumeria and Tangerine Dream. And of course unscented and/or uncolored is always available too.  Check with us for other available scents.

$6.00 each.

3  for  $16.00
***Special Note:  These soaps are made to order and need to cure for 3-4 weeks,  must be ordered in advanced.*** They are definitely worth the wait!!